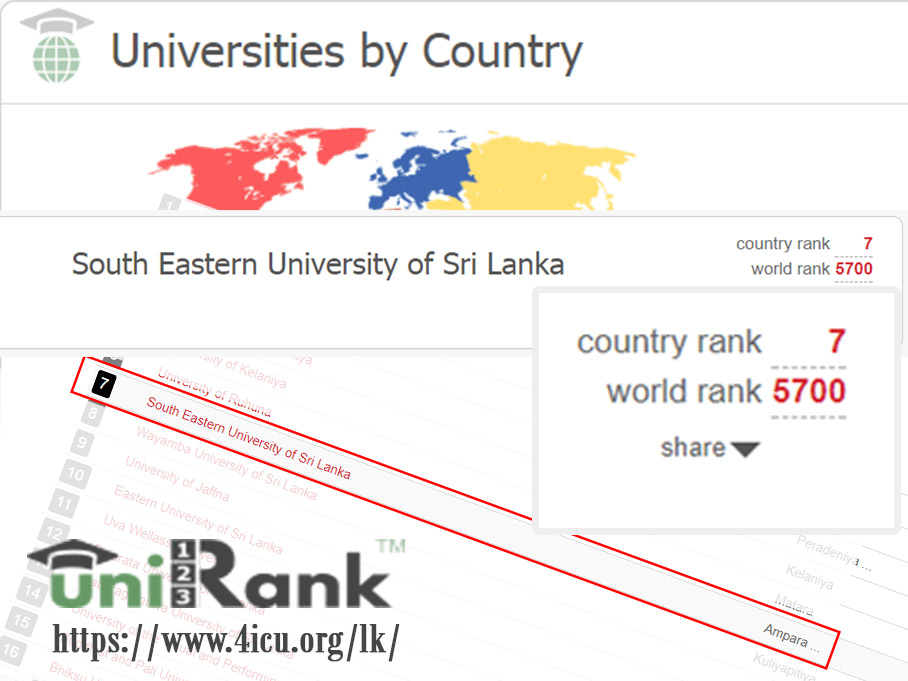 The young South Eastern University of Sri Lanka (SEUSL) located in the Eastern Part of Sri Lanka in Ampara District has been selected one of the top Universities in Sri Lanka. SEUSL was secured seventh in the uniRank pagethat features the 2018 Sri Lanka University Ranking of all officially recognized Sri Lankan higher education institutions.
The ranking was carried out in assessing (a) Meeting the uniRank criteria based on being accredited , licensed and /or chartered by the appropriate Sri Lanka higher education-related organization (institutions/lk/) (b) offering at least four year undergraduate degrees (Master or Doctoral degrees), (c) delivering courses predominantly in a traditional face-to-face , non-distance education format.
Now a days Universities are ranked according to the web performance by using some indicators. Ranking by Uni Rank is based on the four years undergraduate degrees, postgraduate degrees and web performances of universities. Ranking is considerd by all over the world to recognize the university's position. This year SEUSL has got the 07
th
position in the league table published by uniRank
https://www.4icu.org/lk/
. This gives a good reputation for this university comparing with the positions of previous years. It is noteworthy to point out that SEUSL is the best ranked young Universities in Sri Lanka and it has by passed some traditional elderly Universities in the country based on this ranking.
While the Educationalists and academics of the area congratulate the Vice Chancellor Prof. MMM Najim for this great achievement in a very short spell of time, the University Community assures their fullest assistance and co-operation to go further in all his endeavors venture to make this University a more reputable one.