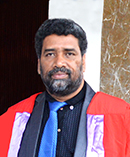 South Eastern University of Sri Lanka in its 20 years of history has produced a first ever Professor and brought fame to the University and the soil of Sammanthurai where he was born.
The Council of the South Eastern University of Sri Lanka approved Dr. Rameez Abdullah for the position of Professor in Tamil upon the recommendation of the Selection Committee Comprising of Professors representing the University Grants Commission and Senior Academics from the Universities has recommended.
Prof. Rameez Abdullah
presently serving as the Head of the Tamil Department of the Faculty of the Arts and Culture is responsible for the Facultie's outstanding achievements in the field of Tamil in the University. As a reputed writer, poet and Journalist he played a major role in these sectors and brought a revolutionary changes in the Society. His analysis in the Book launch ceremonies were of high standard. He is also very good orator.
Dr. Rameez is the third Professor in Ampara District. The first professor in Ampara District is the world renowned Tamil Professor Muttamil Vithagar Swami Vipulananda of Karaithivu who served in India Annamalai University and Universities in Sri Lanka. The second Professor is Prof. MA Nuhuman of Kalmunai who served at Peradeniya University. He is the second son of Late Al-Haj AHM Abdullah who served as In Service Advisor in the Department of Education is a well known social worker of the area.
Vice Chancellor Prof.MMM Najim and the University Community congratulates Prof. Rameez Abdullah for his highest achievement.